Why Qcad Current Version Isn't Important
Latest version not required
The latest version of QCad continues to expand. It is currently at version 3.28 and the update frequency has been slowing down for the past year. These continuing updates are a good thing that keeps the program robust. With our new user and casual user training, the latest Qcad versions serve no purpose in teaching the techniques and concepts of QCad. The recent updates typically add new tools to this stable program. This training program was developed using v3.4 thru v3.11, and bugs were pointed out and removed in future releases. By the time I was using v3.11, most all bugs had been fixed. The graphic below shows which computer systems their product works with.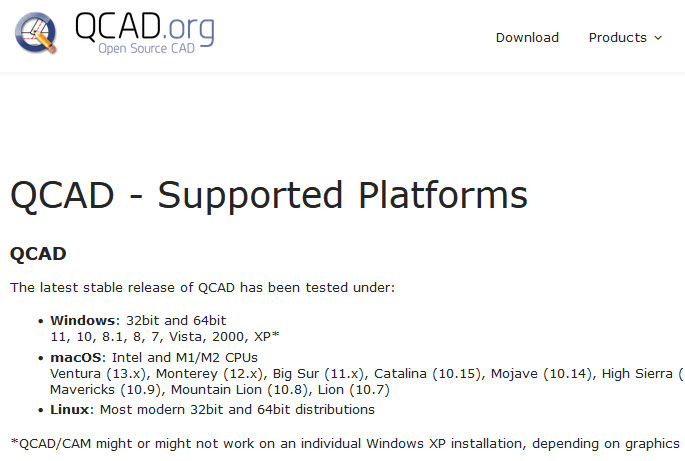 There will always be something new added, so the Qcad help file and the Qcad Forum at RibbonSoft.com will expand your knowledge beyond this base course. The Qcad author (Andrew) suggested long ago that I don't include the version number in my video training programs because of the continuous minor changes. He suggested that I stick with Qcad in the training title. "Qcad Base Training Course" is the best training platform available for teaching a person that is new to CAD. Because I had to teach myself CAD concepts using Qcad (this took 6-months of dedicated effort on my part), my training program reduces the months down to days for the new user and has received wide acceptance with good reviews. It is also important to understand that Qcad has built-in user friendly concepts and features which greatly assist the casual user as well as the daily user.
More user assistance than Autocad
Qcad provides greater user assistance as compared to Autocad and its clones. They have a very steep learning curve and require daily use to find things. Qcad user assistance is passive and demonstrated throughout the training course. Qcad is stable and the current Qcad updates are primarily feeding the power user group. Many power users also use scripting instead of just the GUI window interface. This alone makes for many updates that are of no interest to the newbie nor the casual user. And of course some updates are related to problems related to using Qcad with CAM (computer aided manufacturing machines). This training course was developed for the new Qcad user and the casual user, and it does that very well. Versions 3.4 thru 3.11 are very robust and solid in operation and v3.28 just adds additional features as described above.
These new tools don't provide new capability, they just provide quicker solutions. In other words, a process that may require 2-3 tools can now be accomplished with one tool. The advantage is faster work flow and the disadvantage is that more tools have to be selected from. These new tools are added to the existing toolbars and you can easily absorb these specialized tools after you fully understand Qcad. If you are a power user then the new tools are time savers as long as you use them on a daily basis. If you are going to be a casual user then the time saving tools are less important and will fade from memory over time.