Build Your Own Home with Dry Stacked Blocks
Discover the Ultimate DIY Block Construction Resource
Are you a newcomer to the world of construction, eager to embark on your own building journey? Look no further! Welcome to DryStacked.com, your premier resource for all things related to dry stacked concrete block construction.
For those taking their first steps into the world of DIY dry stacked block construction, our handbook and website are a treasure trove of essential techniques. These comprehensive resources are tailored to walk you through the process step by step, from initial planning all the way to a dried-in structure (closed from the environment).
Unveiling the "DryStacked Block Construction Handbook"
If you're a beginner or a professional, we've got you covered with the perfect starting point – the "Dry Stacked Block Construction Handbook" along with our comprehensive website. Have a look around and discover your project's solution.
We understand that constructing your own dry stacked block structure can seem daunting, which is why our handbook takes away the guesswork and provides guidance.
Take advantage of the current economic downturn. Design your ideal house plans now and be prepared to build during the eventual resurgence of the economy!
Versatility for Every Vision
Dreaming of an off-grid retreat, a coastal oasis, or a mountain sanctuary? Perhaps you're in need of a robust retaining wall , privacy barrier, or garden wall. No matter your vision, our handbook and website are here to guide you.
We empower you to create the structure you've envisioned, backed by solid techniques and methods. Close use of our suggested techniques results in adhering to fortified home standards. This will ensure that your structure withstands the test of time and the sometimes violent mother nature.
Dry stacked concrete block construction Advantages
Super strong structure meets fortified home standards
Great for Tiny/Small Houses (no unhealthy formaldehyde resin gasses)
Earthquake resistant footer, doorway openings, window openings, wall corners and the perimeter lintel bond beam
Draft free, bug proof, & waterproof walls that will not rot
Weather resistant during extended construction delays
Empirical design simplifies plan design and approval
Uses simple existing empirical building code already on the books
Low cost concrete blocks are everywhere
QuikWall Surface Bonding Cement (SBC) is an established product
Requires very little in concrete block mortar skill
Dry stacked block construction myths
Tiny House capable? (yes if you want safe and not portable)
Requires precise mortar skills (not with Dry Stacked)
Damp buildings? (no, SBC stucco-looking waterproof coating)
Not modern looking (stucco appearance and shape is trendy)
To difficult ( I am 61yrs old and do all my own work)
To expensive (saves up to 50% over wood stick materials cost)
Save 100% on your home labor cost (50% of total home cost is labor)
Small windows (my bdrms 3'x5′, great room 2ea 9'x8′ windows)
Box design (see my boomerang shaped house on this page)
Requires special materials (use standard 2-cell concrete blocks)
No detailed build information (this book & website changes all that)
Unproven construction (empirical block design code decades old)
DIY dry stacked block construction for beginners
Are you an aspiring beginner, eager to embark on a sizable project with assurance and attain results? Are you keen to master the art of crafting your own dwelling or other structures using the Dry Stacked block technique? If the answer is yes, then this book and website are your essential companions! Delve into the intricacies of constructing a secure tiny house or a conventional, severe weather-resistant abode.
Since 2006, this book and website have been serving as invaluable resources for DIY builders and contractors alike. Tailored specifically for beginners, they furnish essential insights into the realm of dry stacked block construction. From the initial planning stages to the final touches, these platforms seamlessly navigate you through your project journey.
This website compliments the book by presenting methods for wall insulation, electrical installation, plumbing installation, and sheet rock attachment to these dry stacked concrete block walls.
Gaining insights from real-life encounters, builder questions, practical guidance, and effective tools, these resources deliver a hands-on education. What's more, they showcase a pioneering advancement: the integration of dry stacked construction into tiny homes, presenting a remedy for the storm safety concerns frequently linked with conventional tiny houses.
Designed for the self-driven builder with the resolve to forge their own path, this book speaks to those who dare take this unique route. Even if you're working with a contractor, you can benefit from this book as well. The website's ongoing updates ensure global accessibility to the book and changes, and it serves as an initial resource for anyone contemplating building their own home. Seize this chance to secure your copy today – an opportunity not to be missed!
Purpose of this book
For builders and/or contractors seeking to harness the potential of dry stacked concrete block construction, this 108 page handbook with over 100 illustrations, is tailored to your needs. Designed to facilitate rapid and efficient comprehension of this tried-and-true building technique, this guide equips you to work seamlessly with this reliable material.
Within these pages, you'll find your compass for various project types, strong projects that will not rot with time, including:
Construction of storm safe Tiny house
Construction of modern homes
Construction of disaster-resistant homes
Construction of retreat homes
Construction of passive greenhouses
Construction of retaining walls
Construction of privacy walls
Construction of garden walls
This book draws directly from my personal journey of constructing two substantial buildings. By learning from the missteps encountered during the creation of the initial structure—a 53' x 32' work garage—I refined and enhanced my methods for the second project: my expansive 2800 sq/ft house. The wealth of insights I gained, including invaluable tips and shortcuts, has been woven into these pages to streamline and expedite the process.
Unlike theoretical guides, this book is firmly rooted in genuine experiences. It's a practical resource forged in the crucible of real-life trials and successes. If you're seeking authentic wisdom in the realm of dry stacked concrete block construction, this book is your ultimate companion—the genuine article!
Have a look around and see for yourself
Explore this website dedicated as your comprehensive guide that empowers you to construct a low maintenance, rot-free and storm-resistant home using concrete blocks; all while adhering to fortified home standards. Drawing from our practical experience in building both a house and a garage with dry stacked concrete block construction, this book is your invaluable resource.
Unlock the knowledge and expertise required to embark on large-scale projects with confidence. Learn the art of planning and gain insights that are essential for the successful completion of your endeavor. Welcome to a world where robust construction meets fortified home standards, guiding you towards a safer and more resilient living space.
ICF foam block VS concrete block
Don't be deceived by the claims of ICF foam block distributors. While ICF blocks may tout positive thermal characteristics due to the concrete fill, this reality is far from simple. These blocks demand a substantial amount of expensive concrete to fill, alongside their already pricey nature. The foam insulation they boast of often appears minimal and inadequate. Additionally, this thin foam necessitates protective covering, further escalating costs.
Moreover, the expenses don't stop there. Sourcing and managing the specialized glue required for ICF blocks adds to the financial burden. Custom engineering demands for ICF blocks can also impact your budget. And let's not overlook the considerable steel reinforcement costs essential for the concrete.
When evaluating construction methods, it's essential to dissect claims and weigh hidden expenses. The true cost and feasibility of ICF foam blocks go beyond surface-level allure.
Below is an example of an electrical plan for a dry stacked block house. We have additional website pages about insulation, electrical and plumbing installation with concrete block walls.
Tiny/Small Concrete Block Home Design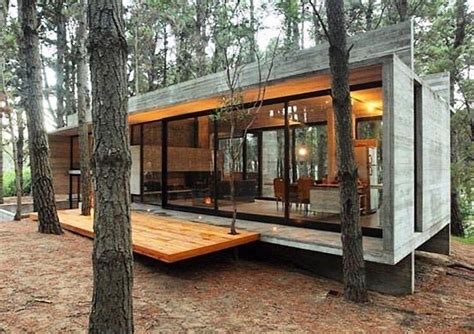 Mid-size Concrete Block Home Design
Conventional Concrete Block Home Design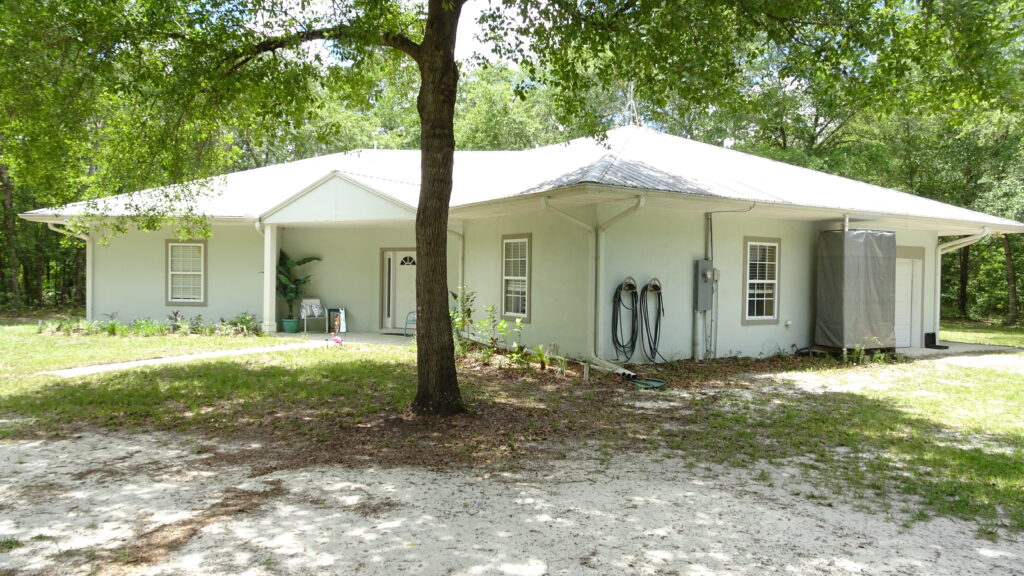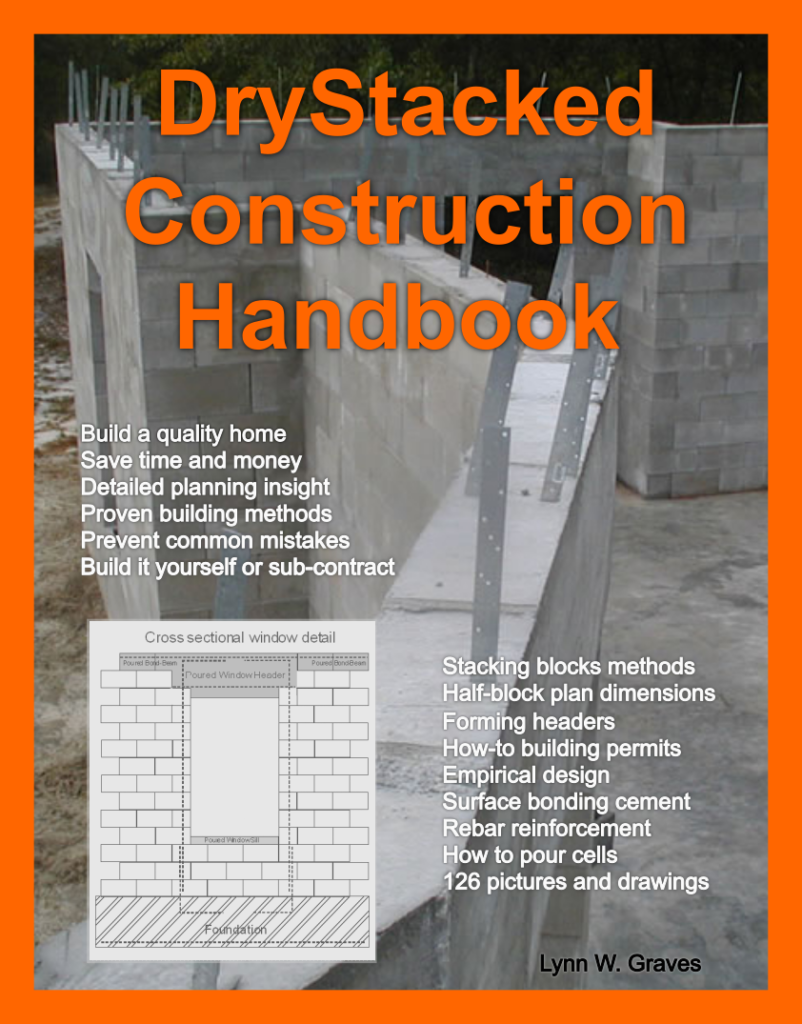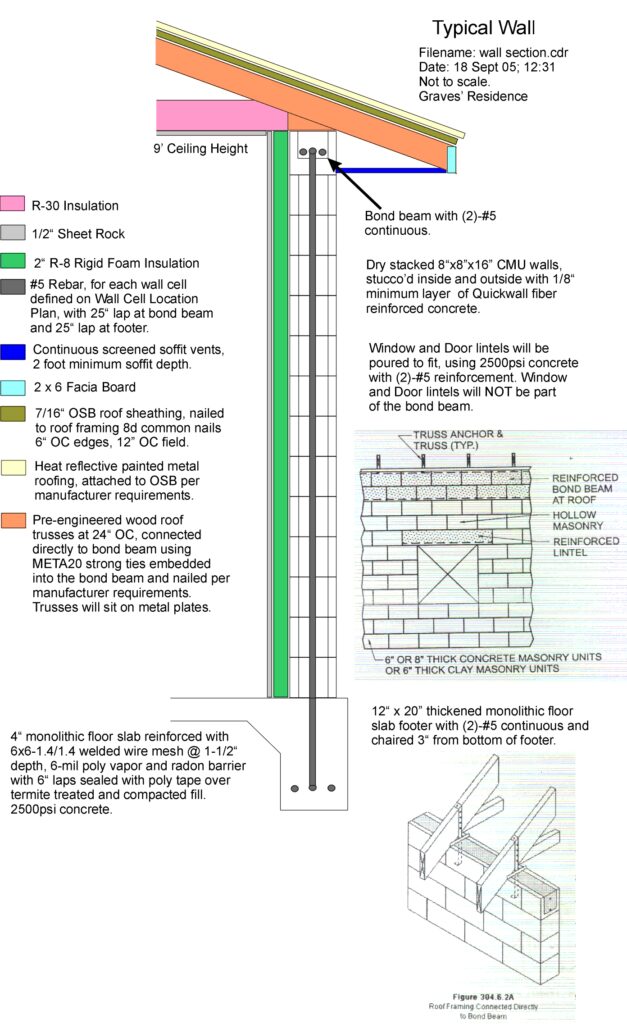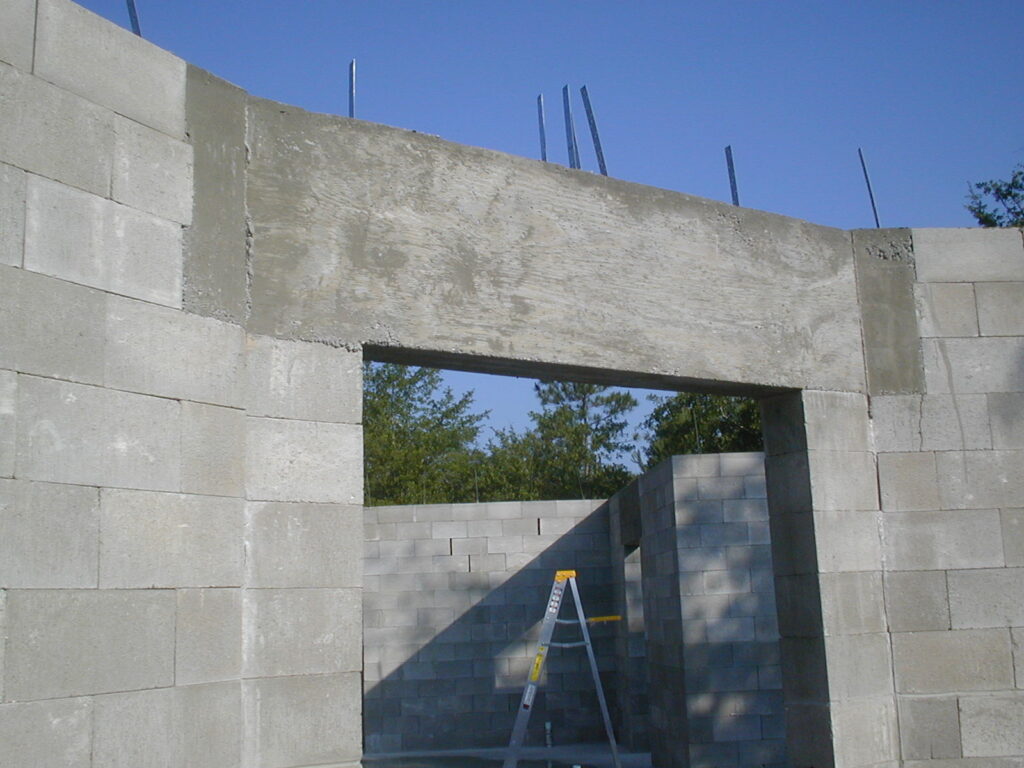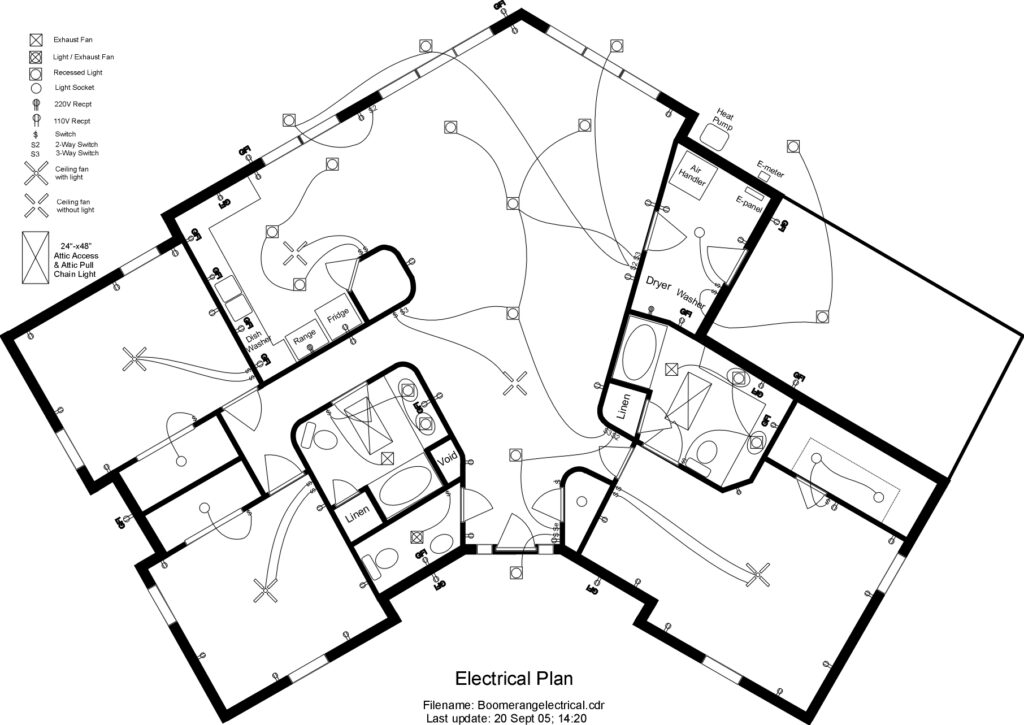 Unyielding Safety: The Fortified Home Standard
In an unpredictable world, the "fortified home standard" approved by the insurance industry, provides detailed guidance for unique building material requirements for homes at severe environment locations. It's a set of robust construction guidelines that create homes capable of weathering extreme weather conditions including corrosive salt spray.
These structures are engineered to resist nature's challenges, offering both physical protection and peace of mind. By adhering to this standard, homes become resilient fortresses, built to endure and shield against the unexpected. These standards are necessary to ensure the long term survival of wooden home structures in certain locations.
Dry stacked concrete block construction automatically complies with these standards because of the materials involved. Your future home owner insurance rates and insurance availability can be sustained when using dry stacked blocks. This building material can withstand decades of severe environmental conditions, including high winds.